Breathing Air Quality Tests
If you are using compressed air as breathing air for example when paint spraying, you need to know it's safe.
The consequences of unsafe contaminants entering a system can be fatal.
It is a legal requirement to regularly test and certificate the breathing airline quality.
The laws governing the control of harmful substances in the workplace say that you should only use RPE after you have taken all other reasonably practicable measures to prevent or control exposure.
What are the potential contaminants?
Carbon Dioxide (CO2) – Exposure can cause headache and drowsiness. At higher levels oxygen can be displaced and depleted air can lead to death by suffocation. This could have come from the compressor cylinders or CO2

exhaust

fumes;
Carbon Monoxide (CO) – Carbon monoxide poisoning occurs when CO builds up in a person's bloodstream. Symptoms include headaches, dizziness, vomiting and ultimately loss of consciousness and death. The air intake for the compressor may draw in CO from the compressor motor or other sources;
Oil Mist – Exposure can lead to breathlessness and potentially serious respiratory diseases inc asthma or extrinsic allergic alveolitis. Lubricants from the compressor are the primary source of exposure;
Oxygen (O2) – Effects of exposure to low concentrations can include confusion, loss of coordination, nausea, loss of consciousness and ultimately death.
Water – Excess water entering the airlines could condense or freeze potentially disrupting the air supply for the user.
What does the law require?
There are various HSE documents that relate to the provision and testing of breathable air in the workplace including:
The Health and Safety at Work etc Act 1974 and the Management of Health and Safety at Work Regulations 1999 require you to maintain a safe working environment.
The Control of Substances Hazardous to Health Regulations (COSHH) 2002 requires employees to undertake a risk assessment which will determine if RPE is necessary as part of a control regime.
BS EN12021 – Compressed air for breathing apparatus is the standard that requires that all contaminants shall be kept to as low a level as possible and shall be below the national exposure limits which in the UK are laid out in EH40 from the HSE.
Compressed air used for breathing equipment must not contain any contaminants at a harmful level.
The tests for harmful substances should be carried out at least once every 3 months or more often when the quality of air cannot be assured.
Any reduction in this frequency must be determined by the risk assessment and based on sound historical data demonstrating a robust control approach.
Undertaking an assessment
At each test point we measure the following in the breathing airline:
Carbon Monoxide

Carbon Dioxide

Water

Oil Mist

Oxygen
In addition, we check the airflow, temperature, in line relative humidity and system pressure.
A test certificate would be issued detailing the overall result.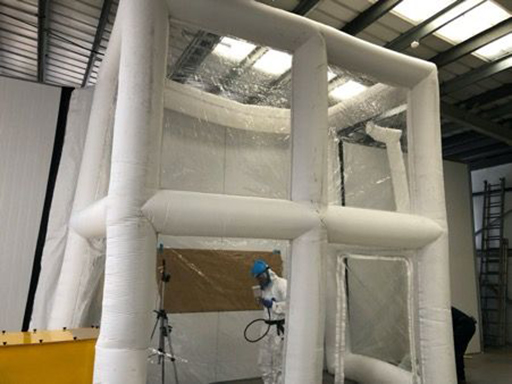 Request a Consultation
Get in touch
The first stage is to, either give us a call on 0191 378 2164 or fill out the contact us form and we'll get back in touch to discuss your requirements.
We will then arrange a visit to your site, or if we have sufficient information, we'll put a clear proposal together for you, with no hidden costs.
All being well our competent consultants will then visit site to undertake the work and produce a comprehensive report, reviewing your control measures with concise recommendations.
We operate throughout the UK and Worldwide.