Commissioning, SAT and APCPPE (SMEPAC)
With experience of testing to sub-ng.m-3 levels, we have worked with some of the largest and most rapidly expanding pharmaceutical companies in the UK testing containment systems we are able to tailor a regime to suit your needs.
One of the reasons to test the performance of containment devices is to determine whether they successfully control airborne emissions to levels considered acceptable for handling hazardous materials of increasing potency. It is usually necessary to verify the containment performance of new systems with surrogate materials due to the hazardous nature of the manufacturing process. It can be useful to establish a target for the control of these airborne contaminants. This Containment Performance Target (CPT) is determined by the requirements of the user.

Containment Performance Assessments may be performed for a number of reasons including:
Confirming equipment manufacturer's claims
· Testing to confirm the baseline equipment performance to determine if the equipment will meet a specific CPT or a CPT range.
· Testing to confirm the baseline equipment performance is being met for custom designed equipment at manufacturer's facility before accepting
delivery of equipment (FAT).
· Testing to confirm the baseline equipment performance is being met for custom designed or standard equipment after installation at the actual use
site (SAT).

Baseline performance testing
· Typically, this testing is performed on existing equipment/processes under development to determine where additional controls may be required to
determine source and magnitude of emissions and/ or to meet a required CPT (e.g. when introducing a new more potent API).
Performance of new bespoke systems
· In this instance, there may be a desired CPT that they hope to achieve and testing can establish a baseline equipment performance for the
technology or bespoke piece of equipment

Comparing similar systems from different manufacturers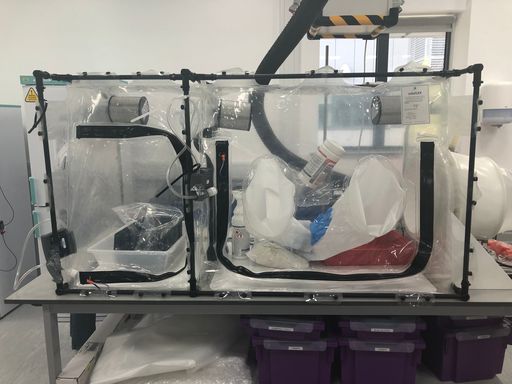 Request a Consultation
Get in touch
The first stage is to, either give us a call on 0191 378 2164 or fill out the contact us form and we'll get back in touch to discuss your requirements.
We will then arrange a visit to your site, or if we have sufficient information, we'll put a clear proposal together for you, with no hidden costs.
All being well our competent consultants will then visit site to undertake the work and produce a comprehensive report, reviewing your control measures with concise recommendations.
We operate throughout the UK and Worldwide.